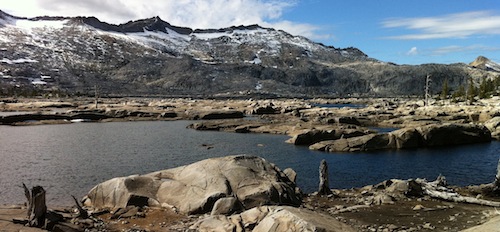 California's Desolation Wilderness has far more trees than the name would suggest.  The choice of photo is purely coincidental.
To reach Aloha Lake from the Echo Lakes trailhead one passes through an area marked "mosquito pass" (at least according to one trail marker).  At the time we visited, snow still covered the higher elevations, though patches of broad-leafed plants gave hints to the insectile clouds summer would bring.  Hiking in autumn, or at least after the first snow, provides a welcome escape from mosquitos, and gear also stays much cleaner with a few inches of snow covering the ground.
The weekend after the first snow of the season we took a weekend trip to Yosemite, hiking towards Indian Rock and North Dome.  Barely a foot of snow was on the ground, but the trail itself was slushy and my light Costco hiking shoes were soon wetted through.  I fashioned socks from a trash bag for the return trip and used duct tape to seal them at the ankles.  Now, I have always suffered from cold toes in the snow and assumed it was simply a matter of circulation; using winter boots seemed to have little effect.  In this case, the vapor barrier approach worked quite well and will almost certainly be repeated, but next time with proper winter boots.
The following week adlib and I decided to visit the Desolation Wilderness.  Plenty of sun had melted nearly all the snow and we made camp on dry ground near Tamarack Lake.  This early stop was fortuitous, as the higher Haypress Meadow was sodden with meltwater.  We made good time to Aloha Lake the next day, and got to run and play atop the rocks.
This year also saw some significant purchases of backpacking gear: packs, sleeping bags, sleeping pads, water treatment gear, etc.  It was only after much of the gear had been purchased that I read through various ultralight (UL) backpacking sites, but as the gear is targeted for winter trips to the Sierras, there isn't too much additional weight-saving to be gained.  We still aim for total pack weights below 30 lbs each, of which food, water, and fuel represents a significant amount. (Particularly as we have been bringing fresh food to cook and eat!)
For the curious, the new gear includes:
Mountain Hardwear Phantom 0 sleeping bags
Steripen Adventurer Opti
Thermarest Z-Lite pad
Exped SynMat UL inflatable pad
Gregory Baltoro and Osprey Ariel packs
Black Diamond Trail Ergo Cork poles
The backpacks aren't particularly light, and in my mind I'm sifting through plans to use my Vaude daypack for summer trips.  Warmer weather also allows for lighter sleeping bags, or even a down quilt.  One UL favorite is a canister stove compared to a traditional white gas stove.  I may try this, but am uncomfortable with the disposable nature of the canisters and certainly wouldn't want them on a winter trip.