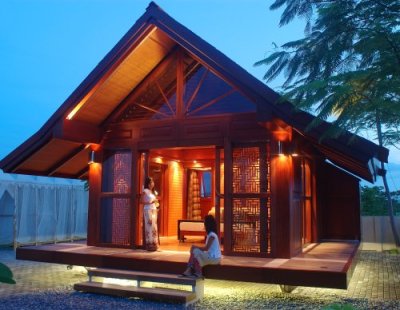 As mentioned earlier, here is a more in-depth look at the Tomahouse.
In a look reminiscent of the Banyan Tree's Floating Bedroom comes the Tomahouse. Featuring traditional Balinese design, this amazing structure can be erected in as little as four hours and disassembled in one. Conceived by Frank Thoma, these modular buildings can be extended up, down, or sideways as the terrain demands. Various insulation and structural enhancement kits allow placement in most any clime.
The module pictured is the Seminyak, using merbau and teak for the panelling, floors, and latticework. Entryways and other areas are trimmed with stone floor sections, and it has been extended to provide a dressing area in addition to the bath and shower area.
This is the IKEA of home-building; models that can be erected in a matter of hours, using only the included tools and simple instructions. The framing is done in steel and aluminum, with integrated conduits for power and water. And like IKEA's efficient packaging, components are neatly fitted into a handful of pallets for ease of shipping.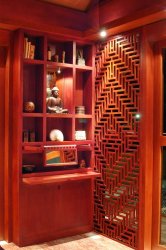 Owners can select different styles of roofing and interior design to create any look from the traditional to the ultramodern. I especially like the first, with the liberal use of glass and latticework that helps soften the boundary between house and nature. The rich hardwoods give the building a feeling of warmth and solidity.
This extended model, including furnishings, is priced at €62,000. I suggest browsing the online shop, as each of the showcased models is presented with a complete breakdown of the components used. Sales offices are located in Spain, Indonesia, Costa Rica, and Australia. (images courtesy of TomaHouse)