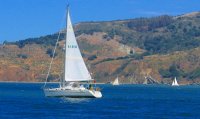 This past Sunday I successfully passed my Basic Cruising course. I'm still looking at what additional courses I'd like to take, but whichever I choose, I'll still need to build up some experience.
The final class had us practice docking at Sam's in Tiburon, and Ayala Cove on Angel Island. (Both sites being important sailing destinations on the Bay, especially Sam's.) Tying up at Sam's was an interesting experience. Our instructor (Oliver) pointed out a location, which cause some confusion given that there was already a boat in the space indicated. As it happens, there was a good 12 feet of slip for us to use, and we managed a good approach under the watchful eyes of a packed outdoor eating area. (Our boat, Vienna, was about 31 feet.)
On Saturday I saw a seal swimming only a few meters from the boat, and on Sunday a hungry seagull hovered above us during lunch. Literally hovered; he slowly coasted to a meter off our stern, turned into the wind, and hung there eyeing our food.
Speaking of food, we got to bake a gingerbread cake as well when Oliver brought out some ingredients and a silicone baking pan. The dish itself was worthy of comment; it's this flexible yellow thing, and the first reaction on seeing it is "that can't possibly go in an oven!". Most of the mix stayed in the pan, amazingly enough, though there were some tense moments as we struggled to keep the pan upright while the boat decided that the floor had spent enough time representing the concept of "down", and that it was high time for the walls to have a chance. The lesson: When baking aboard ship, use a pan with deep sides.