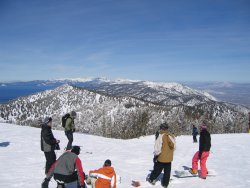 I am the recently-new owner of a snowboard and associated gear. Its initiating run was a weekend trip to Tahoe a few weeks back, where we visited both Heavenly and Kirkwood. The first day was very rough, but the second was much easier. I half suspect that may have been due to simply being too tired for bad technique.
Next stop, soccer. Last week the emails started up, and last Wednesday was our first practice of the season. I thought I'd be in somewhat reasonable shape but still managed to push myself to the limits. Continuous sprinting wasn't in my practice routine, something my legs did not hesitate to make clear the next day.
Finally, sailing. I met up with my parents and friend Kenneth in Alameda for an afternoon of sailing. We took the 32′ boat Caroline; it was my first time sailing a Jeanneau, but I found it handled very well. I kept a single reef in the sail to keep things from getting too exciting, and also practiced steering with the sails alone. Hopefully the weather will return to sunny-goodness soon, as I would like to get in a few more days of experience in the next month.